We Will Work With You: Wellington Media Collective 1978-1998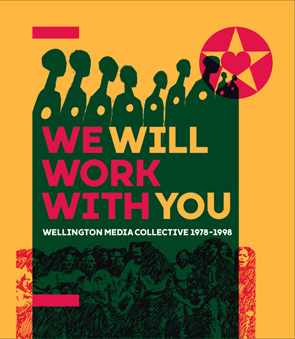 When an exhibition of Wellington Media Collective's work opened at Adam Art Gallery in Wellington in October 2012, a list of clients and associates between 1978 and 1998 was unfurled as a newsprint banner the height of a double-storey wall. People stood reading it and even for those of us who had been part of the Media Collective the list made impressive reading. Visitors commented that every cause or organisation worth fighting for seemed to be there.
We Will Work With You: Wellington Media Collective 1978–1998 tells the story of a group of young Kiwi designers and political activists committed to broadly defined left-wing principles and politics. Although the structure of the organisation moved over two decades from a volunteer collective through paid employees to commissioned work, the mission statement written in 1979 remained a guiding principle: 'We will work with you, not for you.' It is this principle of collective action that illuminates these pages.
In the early days when I was a member of the Media Collective, the drive to demystify and democratise the communication process was equally as strong as promoting the causes of the groups we worked with. This was a common factor within the worldwide labour, anarchist and radical arts movements of the 1970s, and was particularly evident in the work of London-based groups like Big Flame, Comedia and Camerawork. But the content and the passion was all Wellington.
Published by Victoria University Press in conjunction with Wellington Media Collective. For more information and to order a copy of the book, visit Victoria University Press online.
Thanks for visiting Red Eye. If you have any comments, questions or recommendations for improvement, drop me a line.